With over 25 years as a performer, broadcast/multimedia producer and editing engineer, I am able to bring a wealth of experience to provide you with the best product possible.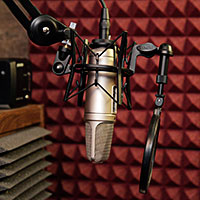 I have a rich bass-baritone voice, developed originally with my training as an opera singer and performer. For narrations, when appropriate, I use my natural warm deep timbre. For commercials and promos, I can adjust from announcer to character shadings. I can vary the depth of my voice if a customer wants a lighter sound, such as in presentations and e-learning.
With about 45 years' experience as a classically-trained vocalist, I can also sing in varying styles from folk-rock to operatic.
Whether large or small, I pledge to give your project my undivided attention. Your satisfaction and the inspiration of your audience are my prime concerns. The voice sample above shares a variety of commercial projects. For this and other demos, from narration, business and audio-books to documentaries, please access my Audio Demos page.